Education
We recognize education as the first step to improving quality of life.
Education is the cornerstone of individual and community success. However, many children in the Kewanee Area service area at-risk of dropping out each year, our community faces an education crisis. These students can succeed, but only when communities and public, private and nonprofit organizations work together.
Education is the key to getting a good job - one with a good income and health care benefits. And it's the key to our economic productivity and global competitiveness. That's why United Way of Kewanee is funding agenceis that help children with education.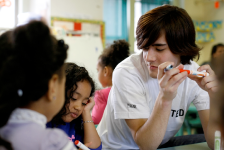 High school dropouts are more than 12 years in the making. Children start learning at birth; the foundation for future learning is laid in the first few years. Disadvantaged children come to school at least two years behind their peers in pre-reading skills, and most never catch up. By 3rd grade, a child's grades and absenteeism rates can predict with 90% accuracy whether he or she will complete high school. We must find ways to target the entire education continuum, from birth through 21, if we want to improve the odds of high school graduation.
That means making sure children are:
Ready for school - starting with the social, emotional and cognitive skills they need to succeed
Reading on track by 4th grade
Transitioning successfully to middle school
Graduating high school on time
Working or attending higher education by age 21
What's the impact of high school dropouts in our community? United Way's Common Good Forecaster™, found at www.liveunited.org/forecaster, can help you determine exactly how education affects our community's future. For example, it can predict to what degree might higher levels of education in your county lower the poverty and unemployment rates – and boost incomes. But beyond jobs and incomes, it can show how changes in the educational level of a place affect its incarceration rate and the percentage of adults who are obese. It can even predict voter turnout in the next election.
What does it really take to improve education? Research shows that supportive communities, effective schools and strong families must be in place, supported by early, sustained investment and driven by proven strategies. United Way has a framework to guide our education work, one that's helping our 1,300 United Way partners across the nation mobilize people around education.