Donate
Why Give to the Kewanee Area United Way?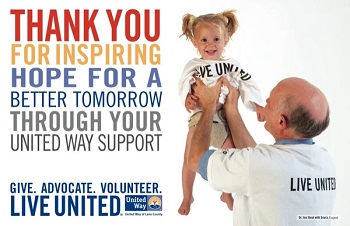 Why give to the Kewanee Area United Way? The main goal is to address the root causes of poverty in our county. While we all comprehend that there is real, large-scale need in our communities, we also expect that our donated dollars are being used in the most efficient and effective manner possible so that more services can get to those in need. Donate to the ongoing effort to provide essential services and community impact activities in this area.
Online

Payroll Deduction
A great way to give is through Payroll Deduction. You can give as low as $1.00 a week to whatever amount you wish to help others. Payroll Deduction is an easy way to budget your gift. Ask your employer for information on Payroll Deduction with 'Buck-A-Week' or 'Fair Share.'
Direct Payment
You can give by a direct payment of a check (or cash).
Mailing Address:
Kewanee Area United Way
PO Box 426
Kewanee, IL 61443
Drop Off Address:
Kewanee Area United Way
200 East South Street
Kewanee, IL 61443 - map
Phone: (309) 761-8447
(Located within the Senior Citizens building - South Street Center "across from Walmart")
Installment payments can be made by monthly or quarterly payments - whatever is convenient for you.
"Give A Fair Share!"
What is a "Fair Share" Gift For Me?
If you are like most people you want to do your part. One hour's pay per month is widely accepted as a gift for hourly/salaried employees. When you give this amount, you will take pride in the face you are doing your part in helping those in need.
A suggested giving guide:
Annual Income Suggested Contribution Translate Cents per Day
| | | |
| --- | --- | --- |
| Annual Income | Suggested Contribution | Translate Cents per Day |
| $10,000 | $60 | $0.20 |
| $20,000 | $120 | $0.40 |
| $30,000 | $180 | $0.60 |
| $40,000 | $240 | $0.80 |
| $50,000 | $300 | $1.00 |
Click here for Payroll Deduction or Direct Payment form.
Endowment and Memorials
The Kewanee Area United Way can become stronger through people such as yourself, by remembering the United Way in your will and contributing through memorials as a caring person this is a beautiful way to help those in need through time.